Poland Missile Incident: Major news outlets amplify early — and likely incorrect — claims, which threatened to plunge NATO into Ukraine war
Context
On the heels of a major Ukrainian victory in the form of expelling Russian troops from the eastern part of the country, two missiles landed in Poland just west of its border with Ukraine, killing two people. U.S. and European news media scrambled to cover the incident, and in the process amplified the narrative that it was Russian forces that fired the missiles into Poland. Immediately, the question arose in western media of whether Poland would invoke NATO's Article V, which compels other member countries to come to its aid. Such a move would have the potential to put the world on a knife's edge of global armed conflict.
Poland Missile Incident Media Coverage
Among major outlets, the UK's Telegraph was perhaps the worst offender, publishing the following story with the headline "Russian missile hits NATO member Poland, leaving two dead":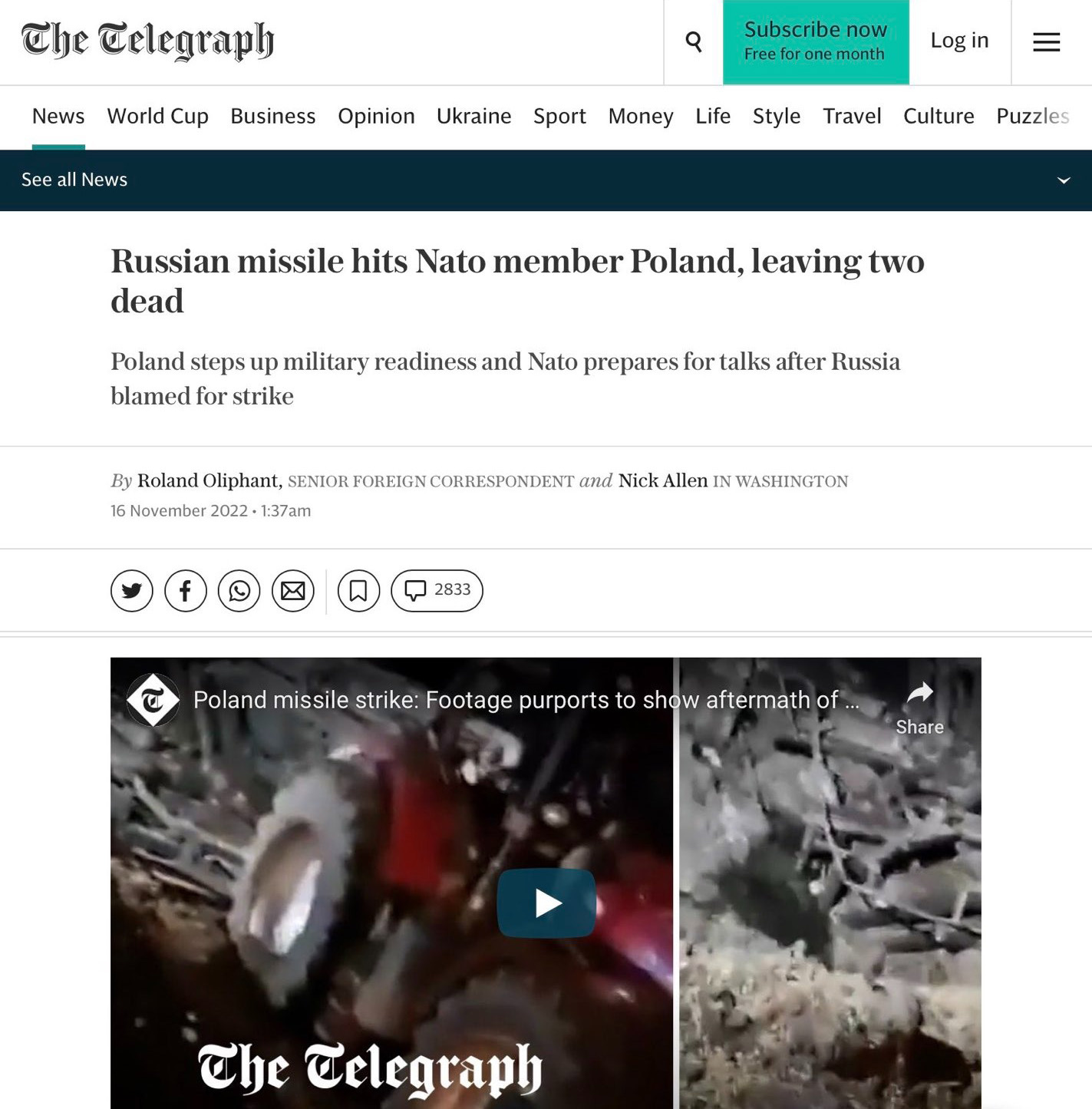 In the U.S., Business Insider, while attributing the accusation against Russia to 'a "US defense official,' nonetheless led with the dubious claim: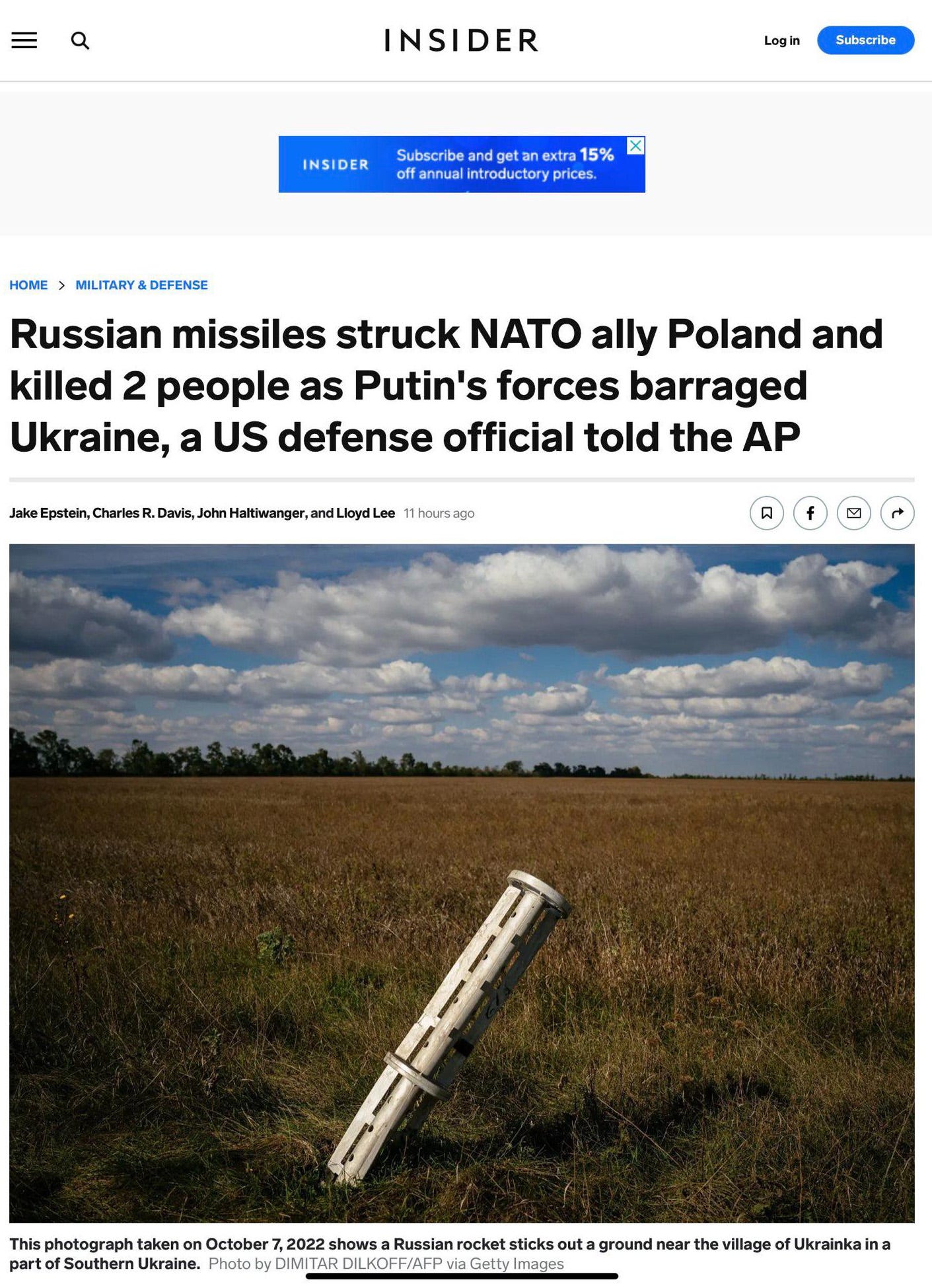 Reuters' headline, while technically accurate (and citing the Associated Press as the origin of the story), lent credence to the claim that the missiles were fired by the Russian military: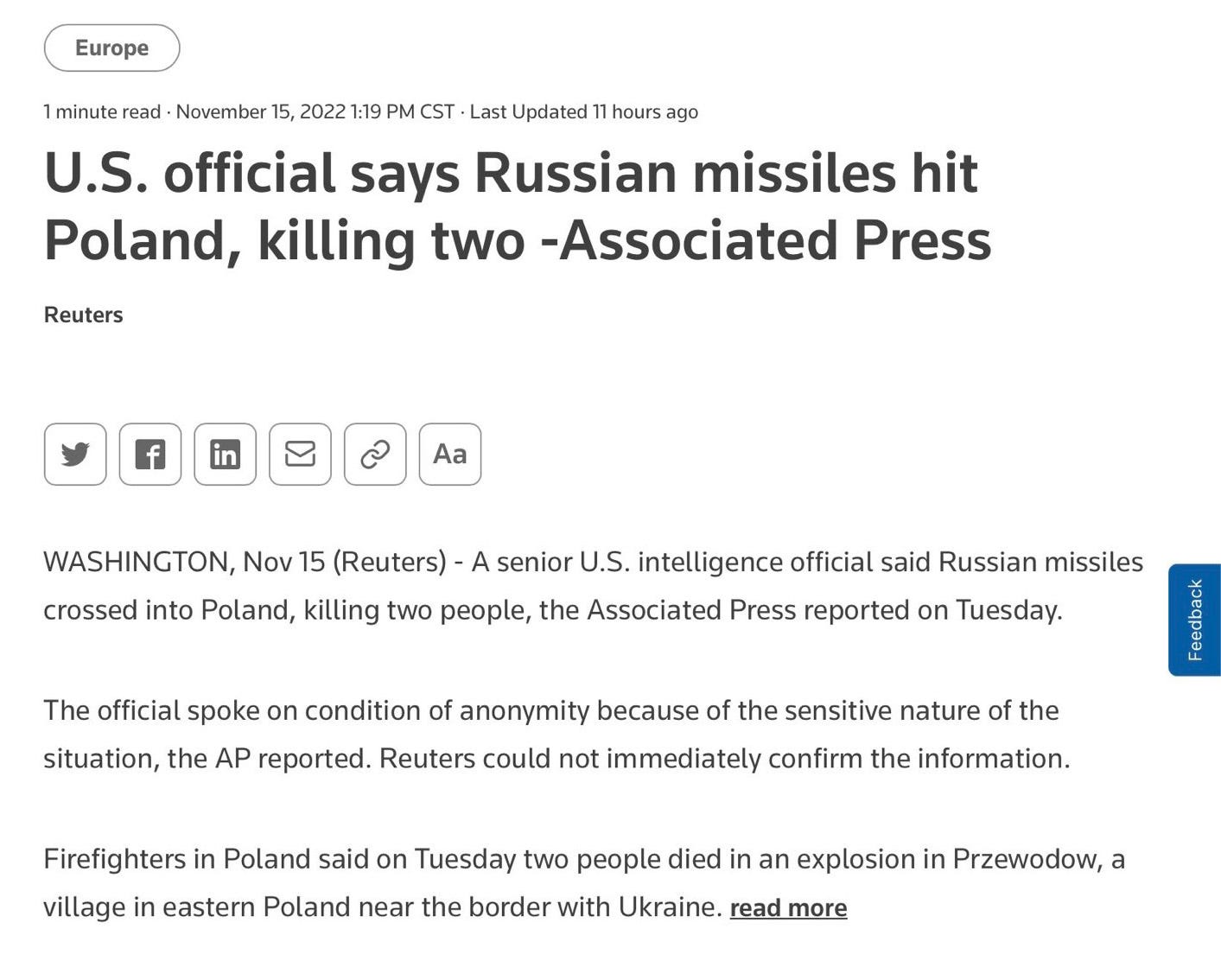 AP amplified its original story on its Twitter feed, linking to an earlier story by the agency ominously headlined "Russia unleashes darkness on Ukraine with power grid attack":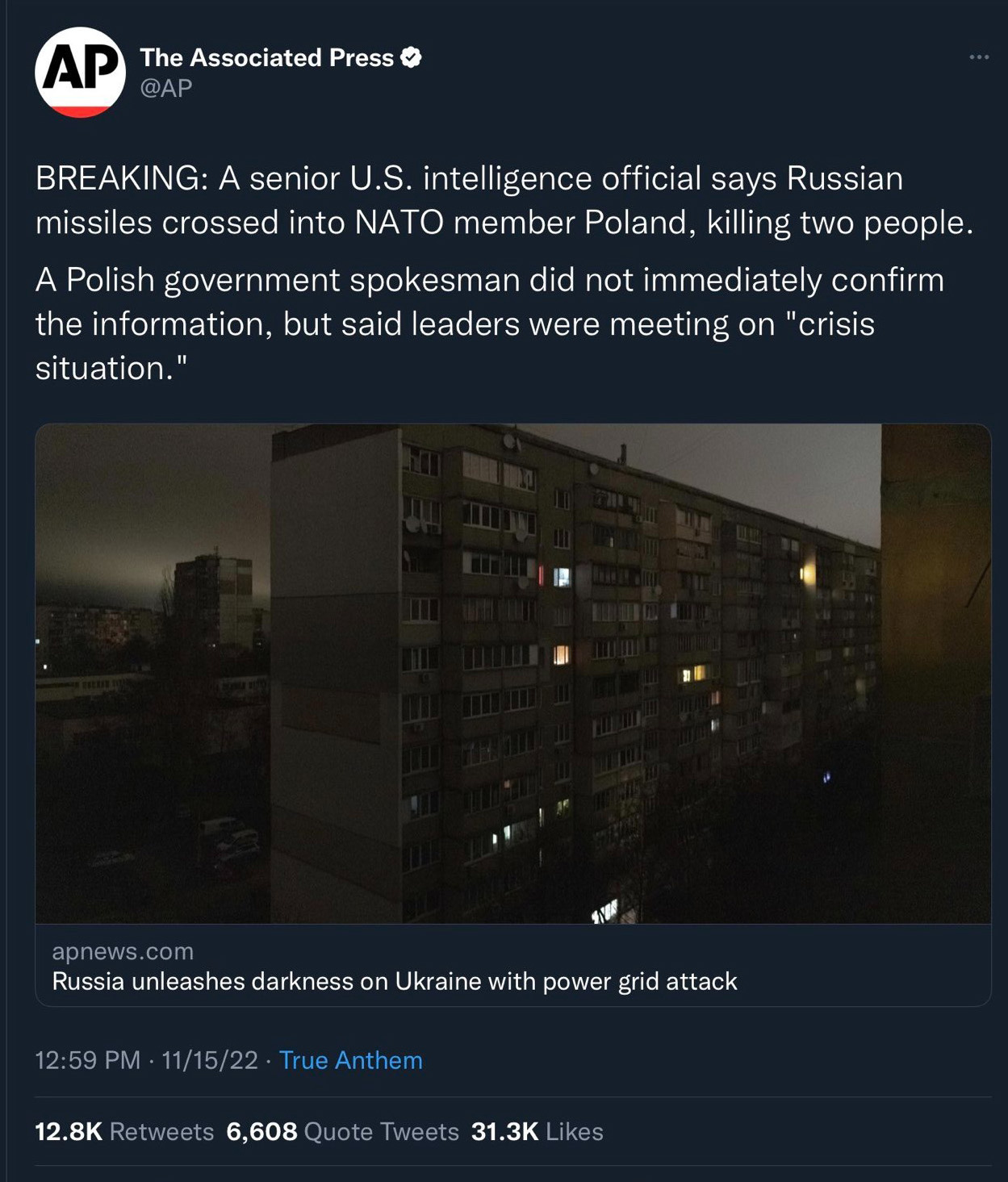 However, as photographs began circulating of one of the missile's remnants, various individuals and organizations familiar with such weapons began questioning their origin. On Twitter, Ukraine Weapons Tracker cited input from @blueboy1969 claiming the missiles were actually Ukrainian: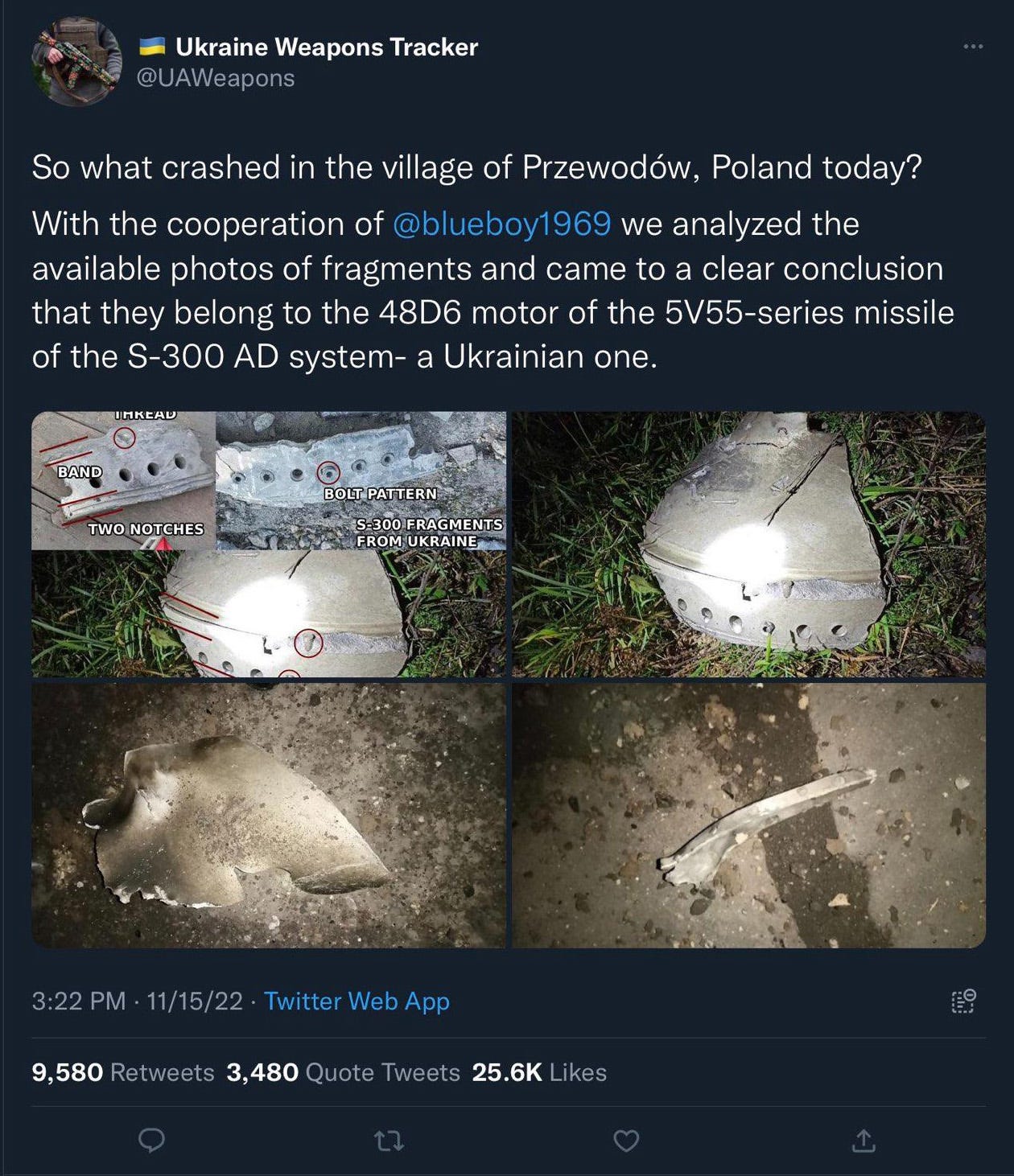 Shortly afterward, U.S. President Joe Biden urged caution: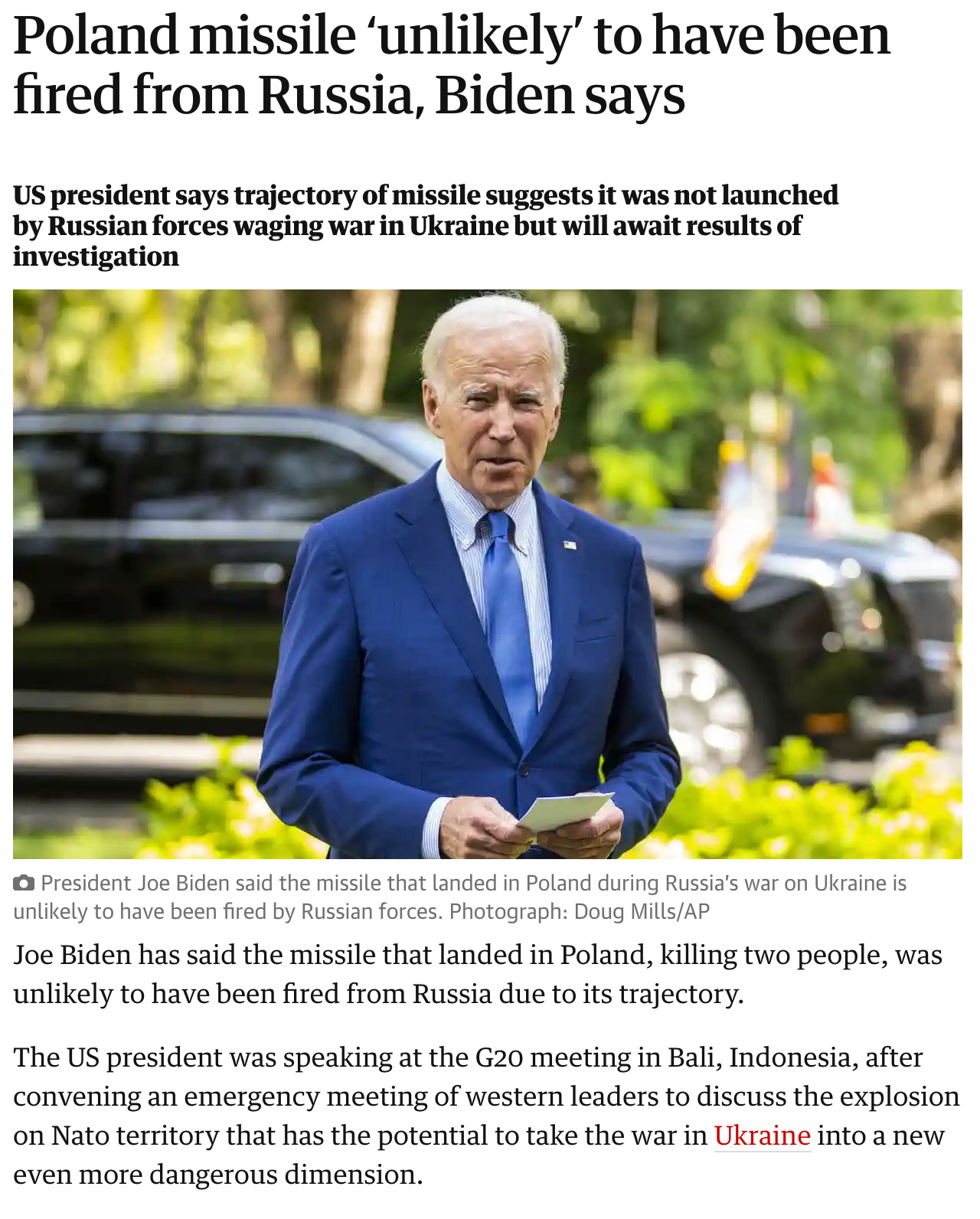 This morning, headlines abound that the missiles were very likely Ukrainian in origin, and that the incident was probably "an error" by Ukrainian armed forces. The Polish government has backed off its initial claim that the incident was a Russian attack: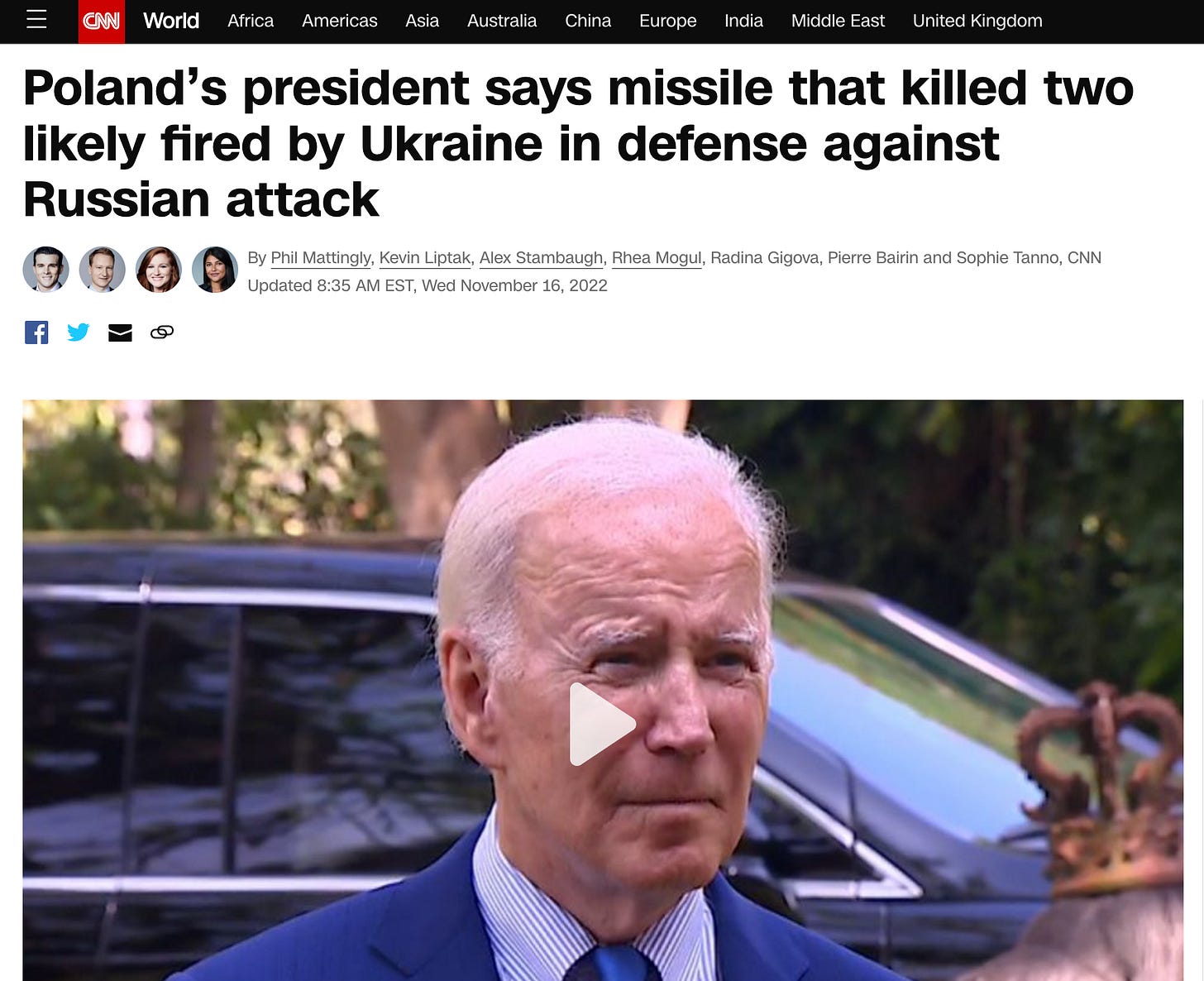 Narrative Intelligence
Kudzu's hour-by-hour narrative intelligence on U.S. Media activity shows when coverage of the incident began spiking:

It also reveals that the phrase "Russian missiles" was the most commonly-used phrase by source, with a total of 1,075 mentions by 262 sources as of this writing: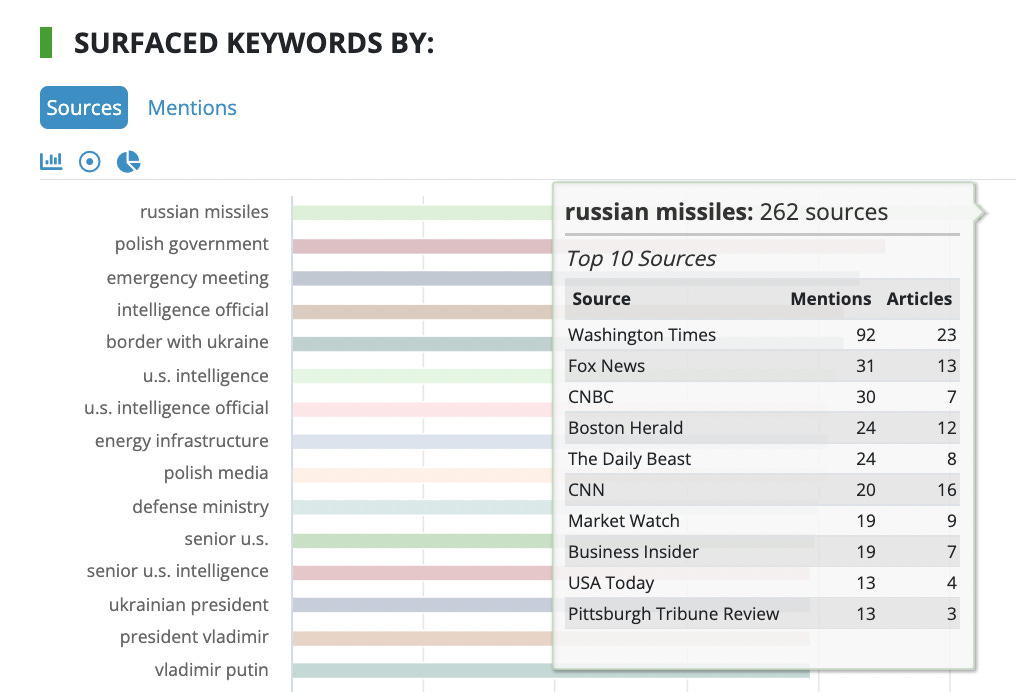 Takeaways
Throughout the day on Wednesday, November 15, speculation swirled as to whether NATO's Article V would be invoked. While not obligating any member to military action, Article V certainly pressures member countries to make clear what military response they are prepared to offer, in the spirit of the treaty's words, to "assist the party or parties so attacked" and to take "such action as it deems necessary, including the use of armed force." In addition to setting the stage for armed conflict with adversaries, intra-organization tension is a very real possibility, as member countries' expectations can be at odds with the reality of their allies' responses. Article V has been invoked only once, and that was after the 9/11 terrorist attacks on the United States in 2001.
This speculation, though, depended entirely on the missiles in question having been fired by Russia, but increasingly it appears they were fired by Ukrainian forces defending against a Russian attack; in other words, an error on the part of Ukraine's armed forces.
A hasty and, it appears, ultimately incorrect assertion by an anonymous "U.S. defense official," amplified by major U.S. and European media outlets, sparked a false narrative that created pressure on NATO member countries (in particular the United States) to respond to questions about whether they would abide by Article V should Poland invoke it. The most robust responses would have necessarily resulted in armed conflict with Russia.
Western media, having floated the possibility in recent weeks of Russia using nuclear weapons, could not have picked a worse time to be reckless and inaccurate with their amplification of provocative claims and accusations which were shown, within a matter of hours, to be almost certainly incorrect.