Following the death of 22-year old Mahsa Amini, protests erupt across multiple cities in Iran.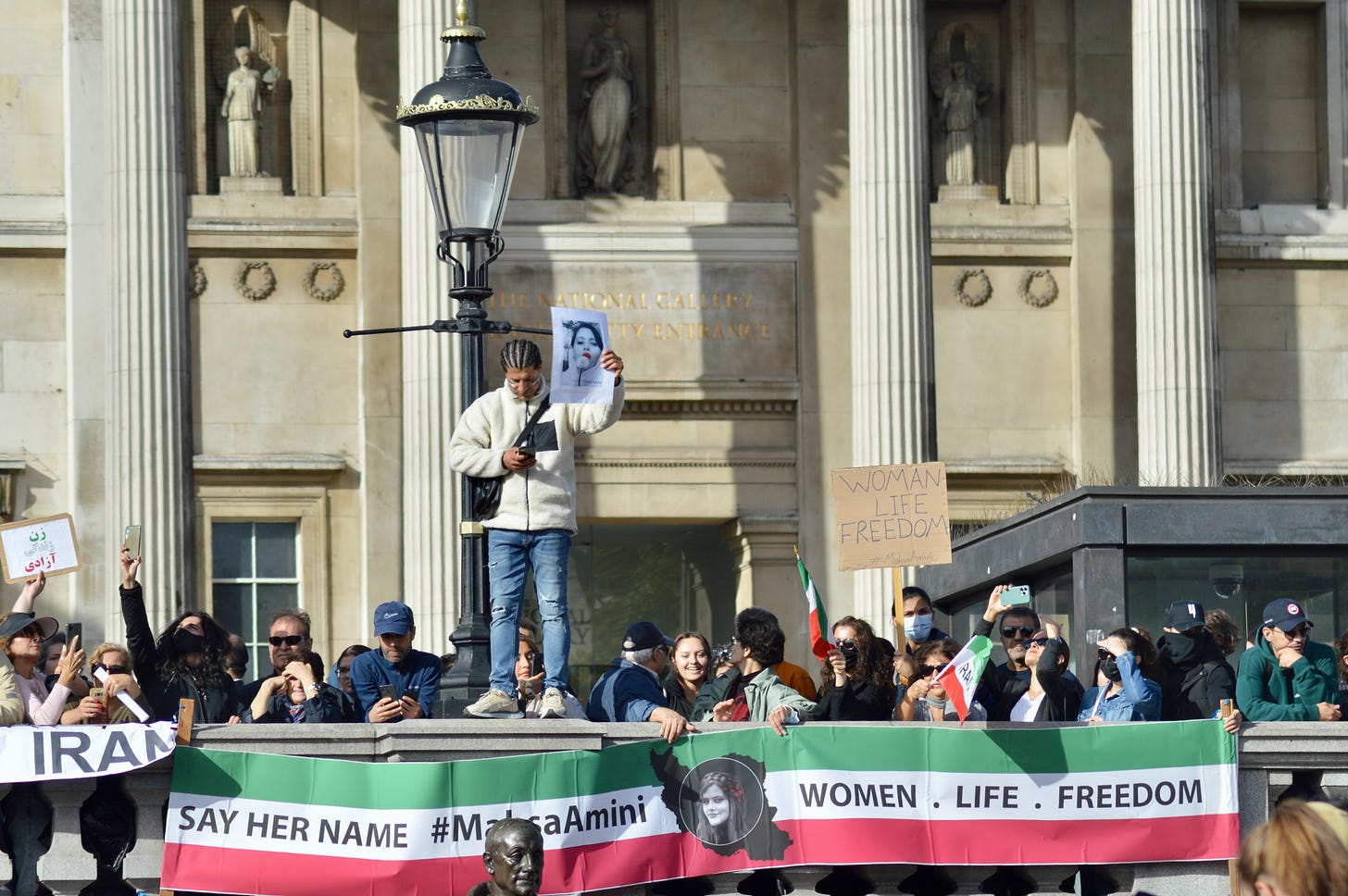 Tehran Unrest
In the last 3-4 days, protests in Iran seem to have reached a boiling point. The unrest in Tehran is the worst it's been since the 2019 anti government protests, when over 200,000 citizens took to the streets. In 2019, it was estimated that over 1,500 people were killed by Iran's security forces. This time around, a death caused by those same law enforcement officials has sparked a movement.
On September 13th, a 22-year old woman named Mahsa Amini, was arrested by Iran's religious police for "inappropriate attire". On September 16th she was dead. Iranian officials claim that Mahsa died in the protests days before, but her family denies this. A number of "respectable doctors" have stated that it is highly likely she died in custody, due to blows to the head and vital organs. In Tehran, and in many other cities across Iran, there have been demonstrations the last three weeks. Recently a response from a human rights/women's rights organization, stated that another young woman, named Sarina Esmailzadeh, was killed by security officials during a protest. The 16-year old died on September 30th, "after being severely beaten in the head with batons". The Iranian judiciary's initial investigation suggest Sarina may have committed suicide by jumping from the top of a building. Sarina's mother denies this notion, and is adamant her daughter died at the hands of the police.
On October 11th, at a facility located in Dubai, employees of an Iranian refinery held their own protest. There is a growing fear from Iranian officials that should these protests continue, it would have negative effects on their oil production.
As tensions rise in Iran, let us take a look at the U.S media module, and analyze our most popular trends associated with these protests.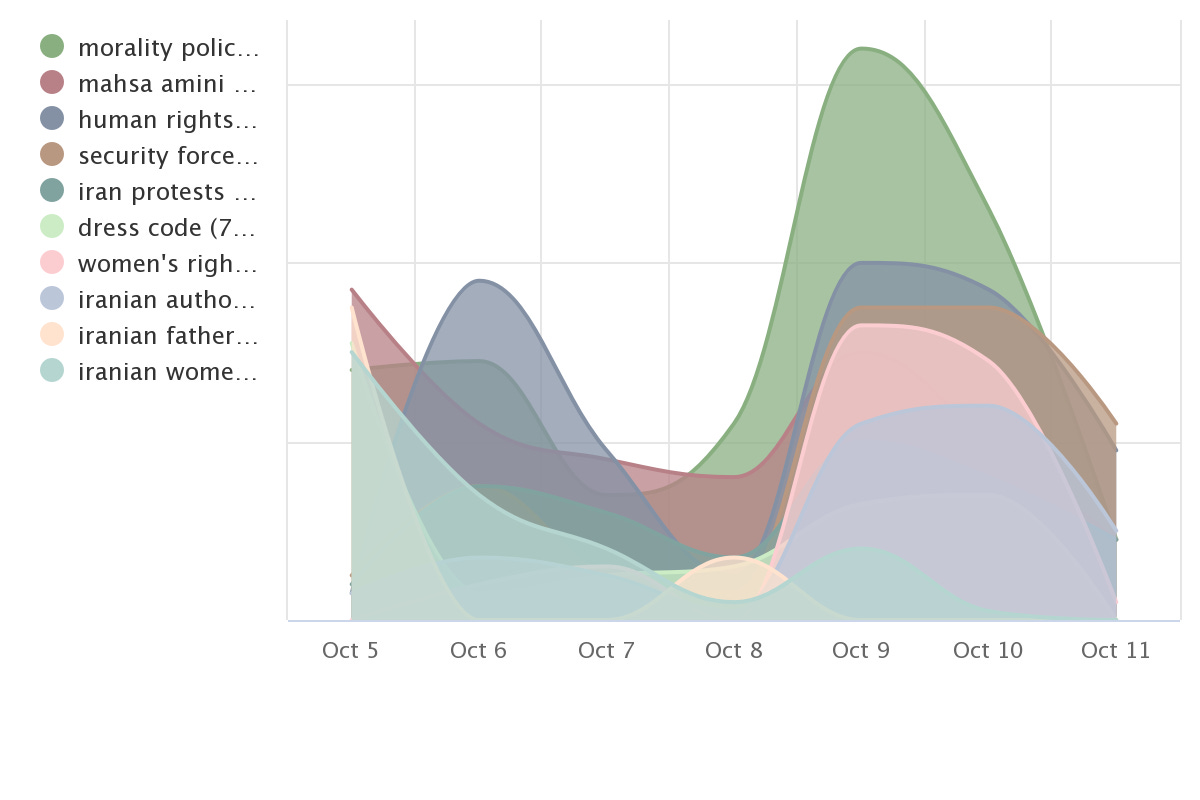 Over the last seven days, our U.S media module has seen 60 sources drive 116 unique narratives in conjunction with the key phrases: "Iran Protests" and "Mahsa Amini". The graph above illustrates that on October 9th we saw a massive spike in the mention of "Morality Police", which is our most popular term over the past 7 days. That phrase alone garnered 231 mentions on 10 different U.S media outlets. Some of our other hot topics include: "Human Rights", "Security Forces", and "Dress Code".
Iran's morality police is tasked with upholding Iran's strong religious laws and values. They were established in the early 1990's, and a common criticism is that they seem to focus their attention on only women. Many Iranian citizens are fed up with religious police, and the death of Mahsa Amini was the tipping point. Since the protests have grown, the religious police have been almost entirely removed from the streets. In Saudi Arabia, Prince Muhammed Bin Salman stripped their version of a religious task force of all of it's power in 2016. Saudi's decision was praised abroad, and it is speculated that Iran may consider taking that same path.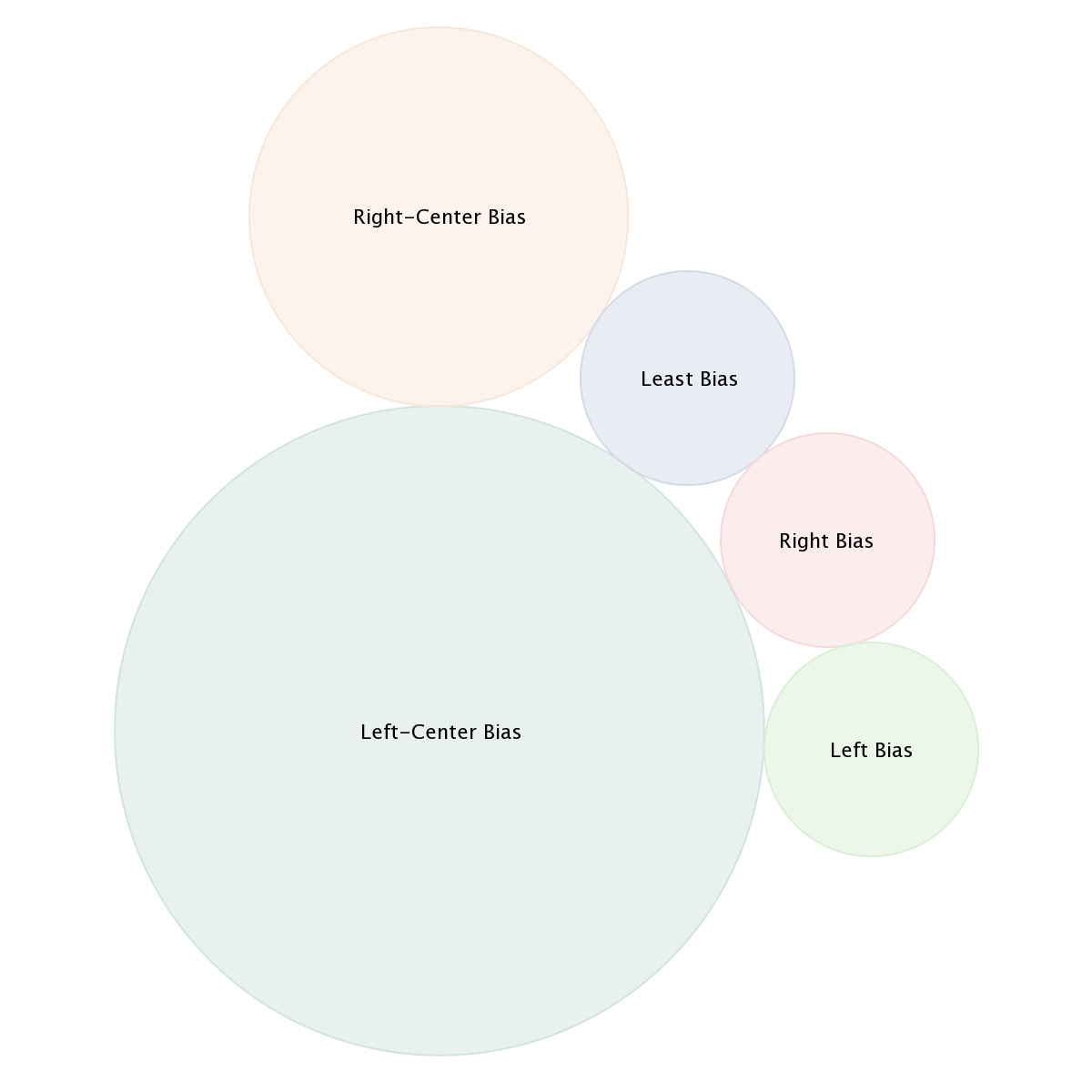 One very interesting data point our module picked up was the political skew this topic saw. In the bubble graph above we are shown which sources based on political bias are amplifying our topic. The "left-center" (46 amplifiers) category made up 43 percent of all coverage within our sources. Of all modules I have covered in the last 5 months, this is the largest share I have seen one political bias take up.
Iran's Forces Response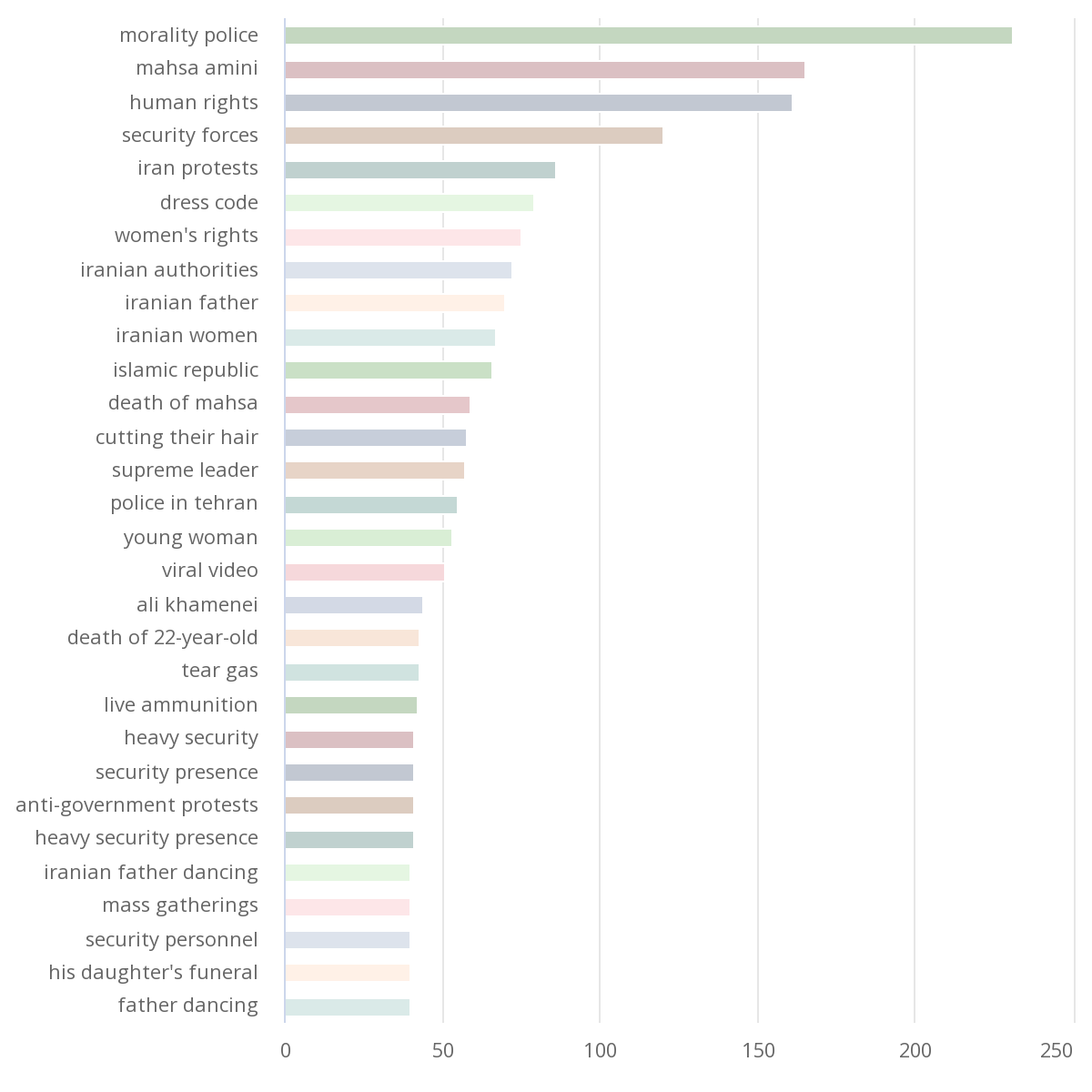 The final trend I wanted to note is centered on two terms: "tear gas" and "live ammunition". These two phrases notched 85 mentions put together, with the Washington Post covering these terms by more than double then next outlet. This raises the question of how Iran's forces have responded to recent protests. Human Rights Watch has documented and published numerous accounts of Iranian police firing live rounds on protestors over the last week. The organization has video proof of peaceful protestors being killed by the hundreds. They have also composed a list of 47 names, confirmed by credible news outlets and activists groups, who were killed during the demonstrations. Nearly all deaths resulted from bullet wound, and the few others were due to birdshot.
The topic of Iranian Protests will be one that most likely continues to grow over the coming weeks. This narrative is currently being under covered in U.S media, in comparison to other parts of the world, and could pick up momentum at any point. Our module is a rolling 7 day brief, so feel free to check back in any time.